| | | | |
| --- | --- | --- | --- |
| RLV ALUMNI INAUGURATED ( R.L.V. DIORAMA ) | | | |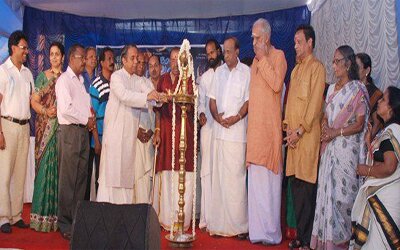 R.L.V. DIORAMA the registered association of the old students of R.L.V.College of Music and Fine Arts, Tripunithura was inaugurated by the renowned musician and Music Director Sri.K.G.JAYAN in a colorful function held at the College campus on Saturday the 9.2.2012. Rendering the famous lines from Narayaneeyam " AGREY PASHYAAMI " by Sri.K.G.Jayan with the vibrant voice created an atmosphere of pure divinity in the inaugural function. The President of the Diorama Sri. TENSILIN AUGUSTINE presided over the function. College Principal Prof.M. BALASUBRAMONIAM delivered the keynote address.In his address he urged all the students fraternity to join hands in protecting and preserving the rich cultural tradition of the College and to work together for uplifiting the institution as an INTERNATIONAL CENTRE OF EXCELLENCE for Music, Natya and Fine Arts learning. Dr.G.Bhuvaneswari, Sri.Abraham Joseph, Sri.Udupi Sankaranarayanan, Smt. Kala Vijayan, Smt.Leelamani Radhakrishnan, College Union Chairman Sri.K.P.Manu , Sri.B.C.Radhakrishnan offered felicitations.The Secretary of the Diorama Mrs. Suma Rajasekharan welcomed the gathering . The students honoured the former GURUS of the institution by offering Ponnada, Bouqet and Momento. Sri.HONEY proposed vote of thanks.
The Bharathanatyam Exponent and former Bharathanatyam Faculty member , Smt. Kalakshethram Vilasini presented a special momento to the Principal.
The former Gurus Sri. Kalamandalam Kesava Poduval, Maddhalam Guru Sri. Evoor Sadasivan Nair, Bharathanatyam Exponent and Guru Smt. Kalakshethram Vilasini, Mohiniyattom Guru Smt. Kala Vijayan,Smt.K.Lalitha , Sri.DEVI , Dr.Malini Hariharan, Prof.Ponkunnam A.M.Ramachandran, Prof. P.Thulasi Ammal, Prof.Mavelikara P.Subramanaim, Sri.T.K.Vinayachandran, Dr.G.Bhuvaneswari Gurus of the vocal Department, Prof.P.Lekshmy Ammal,Smt. A.Saraswathy Ammal, Dr.N.K.Padma, Prof.R.Kamakshy Gurus from the Veena Department, Prof.B.Nelliappan , Sri. Nellai K.Viswanathan, Sri.K.V.Prathappan Thampuran, Sri.P.T.Radhakrishnan Gurus from the Violin Department, Prof.Vaikom P.S. Venu Gopal , Sri. K.Gopalakrishnan gurus from the Mridangam department, Sri.D.Manoharan Guru from the painting department blessed the students.
The inaugural function was followed by a musical presentation by the Gurus and students " Homage to Saint Thyagaraja" the famous Pancharathna Kriti in the raga SRI , ENTHARO MAHANU BHAVULU was rendered. The morning session ended with a delicious LUNCH.
Mrs. Seethalakshmi and Mrs. Leela Mani Radhakrishnan the students of the first batch of RLV were felicitated in the occasion.
The old students , their family members and children presented Music and Dance performance.The performances presented by the wards of the old students was really of high artistic value and was a real cultural treat.
The OLD STUDENTS gathering in the college was a memorable event. A word of special THANKS to the media personnel for their encouragement and patronage.
RLV DIORAMA - EXECUTIVE COMMITTEE MEMBERS - 2014 -2015
PRESIDENT : Mr. TENSILIN AUGUSTINE -Mob . No. 9847056
VICE-PRESIDENT : Ms.C.B.HEMALATHA Mob: No. 8281361099
Mr. MANOJ NARAYANAN. Mob .No. 9847370025
SECRETARY : MR. E.R.XAVIER. Mob . No. 9496086472
JOINT SECRETARIES: MR.VENUGOPAL. Mob. No. 9846005248
Mr. MANU : Mob. No. 9656206663
TREASURER : Mr.MADHU.T.- Mob. No. 9447665055