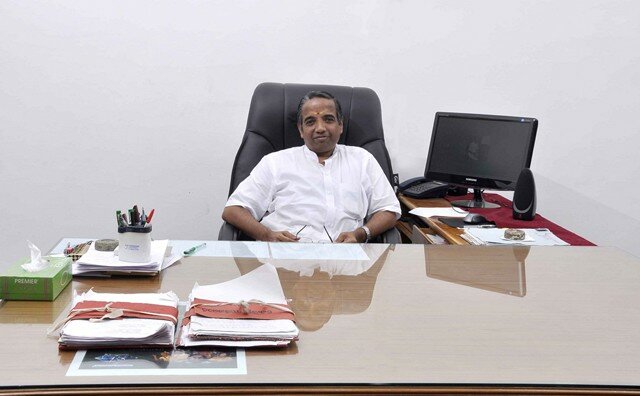 Prof.M.BALASUBRAMONIAM
Principal

Mobile No. 9447014885
e-mail : This e-mail address is being protected from spambots. You need JavaScript enabled to view it
Date of Birth:
21.05.1958
Place of Birth: Thiruvananthapuram
Parents : Father  Prof.N.E.MUTHUSWAMY
Mother Smt.A.SARASWATHY AMMAL
Residence Address:
37/1744, KOUSTHUBHAM
Kumaranasan Road, Kaloor Post.KOCHI -682017
Prof. M.BALASUBRAMONIAM , an accomplished performer of International repute , a Professor of Mridangam and former Principal of Chembai Memorial Government Music College, Palakkad assumed charge as the Principal of R.L.V.College of Music and Fine Arts, Tripunithura on Monday the  6th August 2012.
M.BALASUBRAMONIAM hails from a family of Musicians.He started learning the art of Mridangam at the age of seven under Travancore Palace Vidwan Sri.Krishna Iyengar. He had his advanced training in Mridangam  from the Mridangam exponent Prof.Mavelikara K.Velukutty Nair , Prof.Palakkad C.S.Krishnamoorthy and Thiruvananthapuram Sri. V.Surendran.
He is the recipient of the Government of India Cultural Scholarship and fellowship of the Cultural Department of the Government of India. He is a graded artist of the All India Radio. He has to his credit good number of LP recordings in which he has accompanied for leading stalwarts in Carnatic Music. His Lecture and performances are telecasted in all leading T.V.Channels.

Joined Collegiate Education Department of the Government of Kerala as Tutor Grade II in Mridangam in the Sri Swathi Thirunal College of Music , Thiruvananthapuram on 18th June 1981.

Worked as Head of the Department of Mridangam in the R.L.V.College of Music and Fine Arts,Tripunithura and officiated as Professor and Head of the Department of Mridangam at Sri Swathi Thirunal College of Music,   Thiruvananthapuram. From 3rd June 2011 to 4th August 2012,  he was officiating as the Principal of Chembai Memorial Government Music College, Palakkad.

EDUCATIONAL QUALIFICATIONS

M.Phil in MUSIC
M.A. in MRIDANGAM
MA. in PUBLIC ADMINISTARATION
GANAPRAVEENA POST DIPLOMA IN MRIDANGAM
GANABHOOSHANAM DIPLOMA IN MRIDANGAM
GURUS
Mridanga Vidwan Sri.KRISHNA IYENGAR
Mridangam Exponent , Sangeetha Kala Acharya
Prof.Mavelikara K.VELUKUTTY NAIR
Prof.Palakkad C.S.KRISHNAMOORTHY

Mridanga Vidwan Sri.Thiruvananthapuram V.SURENDRAN
PROFESSIONAL QUALIFICATIONS

Has accompanied on Mridangam for the Concerts of all leading Stalwarts in the field of Carnatic Music like Padmavibhushan Dr.Semmangudi Srinivasa Iyer , Sangeetha Kalanidhi Prof.Palakkad K.V.Narayanaswamy , Sangeetha Kalanidhi D.K.JAYARAMAN, Sangeetha Kalanidhi Nedunoori Krishna Moorthy , Sangeetha Kalanidhi Sri. Maharajapuram Santhanam , Sangeetha Kalanidhi Dr.S.Ramanathan, Flute Maestro Dr.N.Ramani, Mandolin Maestro U.Srinivas, Sangeetha Kalanidhi Sri.T.V.Sankaranarayanan, Sangeetha Kalanidhi Sri.Maduria T.N.Seshagopalan, Padmari Neyyattinkara Vasudevan, Prof.Mavelikara R.Prabhakara Varma and others.

PERFORMANCES ABROAD.

Has traveled all over the World performing with Foreign Musicians Like Trombone Maestro ALBERT MANGESDORFF , Saxophonist CHICO FREEMAN, Zarb Maestro DJAMCHID CHEMIRANI, Percussionist RETO WEBER, Guitar Exponent CHRISTY DORAN .etc.

FOREIGN ASSIGNMENT
MRIDANGAM TEACHER CUM PERFORMER
The Indian Council For Cultural Relations of the Ministry of External Affairs, Government of India had deputed Prof.M.Balasubramoniam to Indonesia for teaching Mridangam in the Jawaharlal Nehru Indian Cultural Centre, Jakarta.
FOREIGN COUNTRIES VISITED
UNITED STATES OF AMERICA
SOUTH AMERICA - VENIZUELA,CUBA,BOLIVIA / LAPAZ,BRAZIL
WEST AFRICA - DAKKAR, IVORY COAST,GHANA
SOUTH AFRICA- PRETORIA -JOHANSBURG,CAPE TOWN,DURBAN
BULGARIA -VARNA
EUROPE: GERMANY , SWITZERLAND,PARIS,AUSTRIA,ITALY,FINLAND
SOUTH EAST ASIA - INDONESIA,SINGAPORE,KULALUMPUR
HONGKONG,VIETNAM,BANGKOK,
Member in Academic Bodies.

Prof.M.Balasubramoniam is the member in the various academic committes of the Government also the member in the Board of studies in various    Indian Universities.
SUCCESSION LIST OF PRINCIPALS
1. Prof.N.N.Narayana  Bhagavathar 1956-57
2. Pro.K.R.Kumara Swamy Iyer 1957-66
3. Prof.K.S.Harihara Iyer 1966-68
4. Prof. NellaiT.V.Krishnamoorthy 1969-70
5. (Smt) Prof. Parassala B.Ponnammal 1970-80
6.Prof. Mavelikkara R.Prabhakara Varma 1981-84
7. Prof.Smt. S.Janaki 1984-85
8. Prof.T.P.Mani Iyer1985-86
9. Prof. K.K.Dharmarajan 1986-88
10. Prof. P.Leela 1988-94
11. Prof.V.I.Suku 1994-96
12. Prof.Avaneeswaram N.Ramachandran Pillai  1996-98
13. Prof.Tripunithura K.Lalitha 2000-02
14. Prof.P.S. Vanajam 2002-2009
15. Prof.R.Kamakshi 2009-2012